As man's best friend, it's no wonder that dogs have made notable appearances in movies, songs, and books. They accent stories about friendship, loyalty, family, magic, love, and much, much more. Here, we take a look at some of the best-loved dogs in Disney movies.
Dug
From anyone else, the line "I was hiding under your porch because I love you," would make me want to run straight for the pepper spray. When Dug says it, well, roll over and let me rub your tummy. Can a dog get any cuter or more loveable? I. Think. Not.
This giclee poster of Pixar and Disney's Up, "I Can Speak," resembles a vintage advertisement. Where can I get a talking collar for my dog? Never mind. Knowing him, I'd probably never stop hearing about the amazing benefits of bacon.

Goofy
This figure "One Man Band" reminds me of Dick van Dike a la Bert in Mary Poppins. Possibly one of the most well-known and popular dogs in animation history, Goofy has lived inside the hearts of generation after generation of Disney fans. The figure is made with porcelain and includes exquisite, painted detail.

Beauty and the Beast's Footstool Dog
In ancient legends, he is referred to as "Footstool," but his name shall never be truly known…
But that doesn't make him any less cute. This footstool dog from the tale as old as time is made of porcelain and painted in beautiful, original colors. Makes the perfect conversation-starter.

Lady and the Tramp
If you ask me, spaghetti is hardly what I would order on my first date. Think of the tomato stains! When you're a canine, anything goes. Artist Rodel Gonzales captures the most romantic moment of canine history in his giclee on canvas, "Beautiful Night."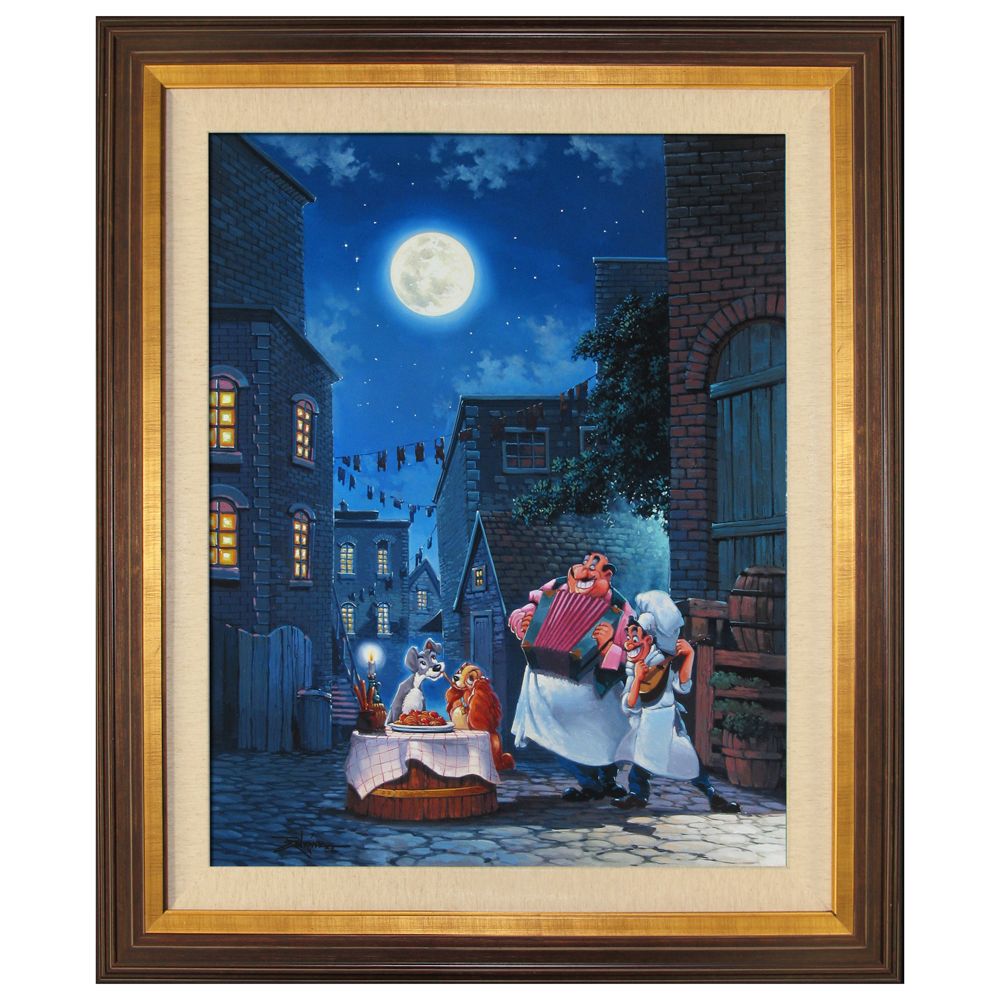 The Fox and the Hound
The true meaning of friendship is addressed in the classic story of the Fox and the Hound. This vintage movie poster captures the two best bros in their innocence before their relationship is put to the test.

Pluto
Pluto may not be a planet, but he's one of the most loyal dogs of all time. Here are a few amazing paintings of Mickey's best friend.
"Such a Good Boy" by Greg McCullough

"Smile" by Tsuneo Sanda

"Fall for It" by Dave Tutwiler

101 Dalmatians
Last, but definitely not least (or fewest), is every member of the 101 Dalmatians pack. Lucky, Spot, Dipstick, Polly, we love 'em, spots and all.
Another one of my favorite artists, Tsuneo Sanda paints the canine clan in this giclee on canvas, "Smile: Dalmations."
TAGS: Canines, Canvas, Collectibles, Dogs, Giclee, Posters